Page 11 sur 11 •

1, 2, 3 ... 9, 10, 11




Ville de départ pour l'AVP

: Limoges puis Paris!!!



Fonction pour l'AVP

:



Messages

: 3839


Date d'inscription

: 15/01/2011


Age

: 32



c'est pas la photo de l empire lol c est une des affiches ^^



Ville de départ pour l'AVP

: paris



Fonction pour l'AVP

:



Messages

: 4285


Date d'inscription

: 13/01/2011


Age

: 28



Oui c'est vrai! Absolument! J'ai mélangé!!^^



Ville de départ pour l'AVP

: Limoges puis Paris!!!



Fonction pour l'AVP

:



Messages

: 3839


Date d'inscription

: 15/01/2011


Age

: 32



D'ailleur concernant cette affiche Matthew a dit :" Oh aye, it's alright that poster int it! Enjoy!"



Ville de départ pour l'AVP

: Poitiers/Paris



Fonction pour l'AVP

:



Messages

: 434


Date d'inscription

: 31/12/2010


Age

: 37



Matt aussi a droit à un peu d'actu, un article paru aujourd'hui
Published on Tuesday 14 June 2011 13:02
From Harry Potter films to an Agatha Christie stage show has been quite a learning curve admits 21-year old actor Matthew Lewis.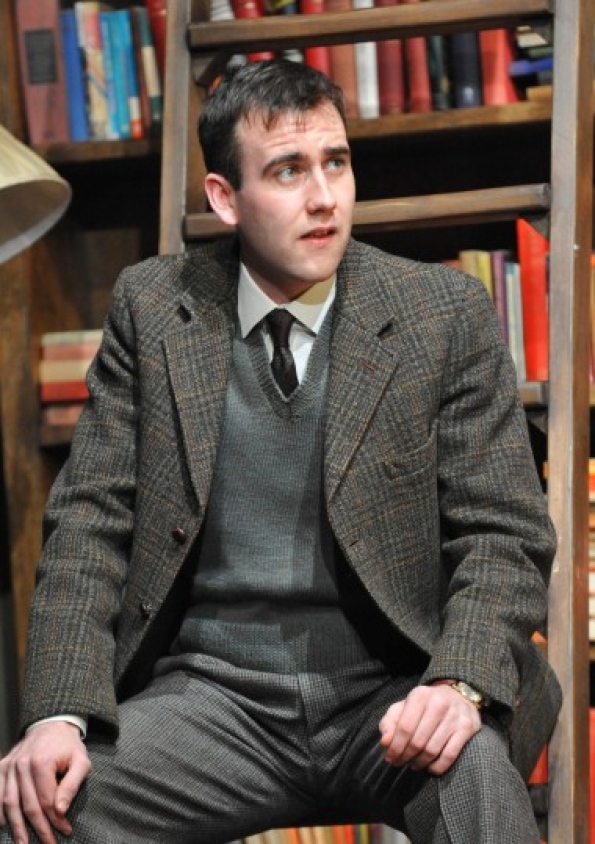 (la photo a déjà été postée mais elle va avec l'article lol)
The Leeds-born performer, who plays Neville Longbottom in the Potter series, is at the Grand Theatre this week playing Lester Cole in the Christie mystery Verdict.
"It's the first theatre work I've done and I have to admit that it took some time to get used to the different discipline," he admits.
Born in Leeds he has been acting since the age of five after joining an after school drama group.
He was offered the Potter role after being picked at an open audition for the first film and since the age of 11 he has been involved in each episode of the saga.
"I knew that stage work was a hole in my experience so as soon as I could I decided to take the plunge," says Matthew, who will be 22 later this month. It was time to give it a go but I really thought I couldn't do it at first.
"Fortunately everyone was very patient and the cast has been so good to me. They have been great and I have learned so much over the last five months. It's been great fun."
His Harry Potter years were his equivalent of going through school and university, he says.
"All my friends were doing that whilst I was busy filming and we've all finished at the same time," says Matthew.
With the second part of Deathly Hallows due for release soon Matthew will head straight from this tour on to promoting the new film.
"The tour ends on June 25 then the Harry thing starts on July 3 and I'll be off to New York, Orlando and Toronto," he says. "It will all seem very strange."
But even after all the years in the limelight Matthew's feet are still very firmly on the ground.
"I live in Horsforth near Leeds and I've still got all my old friends," he says. "They would soon let me know if I was getting above myself!"
The acting bug came from his older brother whose acting classes landed him small parts on the likes of Heartbeat.
"From being about two my mum would take me to the filming sessions and by five years old I'd decided that's what I wanted to do."
With Harry behind him he is now looking forward to what might come his way.
"I'm open to offers and I've a couple of things lined up," he says.
As for the legendary Harry Potter fans he says he still finds it strange when they wait outside theatres for him.
"Thankfully they are all very nice people so it's a pleasure to meet them," he says.
Although he has never worked in Blackpool before Matthew is no stranger to the town.
"I've been loads of times," he says. "I love the darts at the Winter Gardens because my dad used to play and it was always on the TV – and I came to see The Verve with my mates. Great days."



Ville de départ pour l'AVP

: Paris



Fonction pour l'AVP

:



Messages

: 1121


Date d'inscription

: 10/01/2011






Ville de départ pour l'AVP

: Limoges puis Paris!!!



Fonction pour l'AVP

:



Messages

: 3839


Date d'inscription

: 15/01/2011


Age

: 32



Page 11 sur 11 •

1, 2, 3 ... 9, 10, 11

---
Permission de ce forum:
Vous
ne pouvez pas
répondre aux sujets dans ce forum